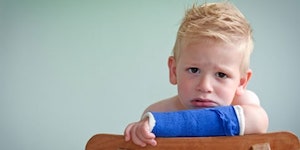 Florida courts have recently become strict regarding the enforcement of court approval requirements for global settlements involving minors in Florida. At Florida Probate Law Group, we make sure probate and guardianship issues do not delay settlements for injury firms. Most injury attorneys know that a child injury settlement over fifteen thousand dollars triggers Florida's complex court approval statutory scheme (see our flowchart here). However, many are unaware that ANY settlement benefiting a child, no matter the value, requires court approval when paid as part of a global settlement with a total gross value of fifty-thousand dollars ($50,000.00) or more.
Allen v. Montalvan
As explained by Florida's 4th DCA in Allen v. Montalvan, Florida's statutory scheme regarding court approval of child settlements is activated when a total global settlement reaches the threshold of $50,000.00, regardless of the amount apportioned to the minor:
"Because the [global] pre-suit settlement in this case involved minors and totaled $50,000 or more, the trial court was required to appoint a guardian ad litem to represent the children's interests before approving a settlement that disposed of the children's claims. So.3d —-, 2016 WL 4547993 (Fla. 4th DCA Aug. 31, 2016)"
The lawyers in Montalvan learned this lesson the hard way – after the minor's parents hired new attorneys, challenged the previously agreed upon settlement, and filed a lawsuit seeking greater damages. This all happened after the parents had signed releases agreeing to the settlement on the minor's behalf. The global settlement was rescinded as non-binding, and the parents were allowed to proceed to file a civil claim.
Prior to Montalvan, many firms were under the impression that a pre-suit global settlement over $50,000.00 did not automatically trigger court approval proceedings if the child's portion alone did not exceed $15,000.00. Indeed many remain under this impression. However, as we learned in law school, ignorance of the law is not excuse. Our goal at Florida Probate Law Group is to be an asset to plaintiff's firms and provide certainty that their settlements are secure.
Resolving cases without consideration of Florida's child injury laws is a recipe for disaster, as it leaves the door open for parents to come back and rescind the settlement regardless of releases signed on behalf of the child. From the Bar's 9th edition of Florida Guardianship Practice: "Mistakenly making payments to a parent as natural guardian in the absence of authority does not discharge an obligation to the minor in excess of $15,000.00. See Auerbach v. McKinney, 549 So. 2d 1022 (Fla. 4th DCA 1989)"
The acceptance of funds offered in settlement of a minor's claim using an arrangement that circumvents the proper legal procedures may result in personal liability of the plaintiff's counsel, restoration of funds improperly paid to the attorney, and legal malpractice liability. In McKinney attorneys had to return money (including fees) for a brain damaged minor client, after attorneys accepted payments from defendant's insurers made out to attorneys rather than to the minor client without seeking court approval.
Get Help With Global Settlements Involving Minors in Florida
As shown in Montalvan and McKinney, a "settlement" not in compliance with Florida's child injury laws is not a settlement at all. Such a case is a ticking time bomb for both defense and plaintiff's counsel, as failing to comply with Florida's child settlement laws leaves plaintiff's firms open to the risk of malpractice suits and insurance companies vulnerable to paying out on the same claim twice. Our firm has experience securing court approval for global settlements involving minors in Florida to protect parents, lawyers, and insurance carriers.
Florida Probate Law group works with injury attorneys across the state to ensure that their child injury settlements are in compliance with Florida law, secure court approval of those settlements, and establish guardianships and restricted depositories when required by statute. Call us anytime at (352) 354-2654 for a free consultation to discuss your case. We work on a flat fee basis billing your client's net at settlement resolution.