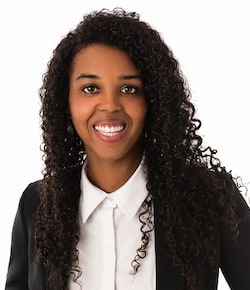 R. Nadine David
R. Nadine David is an attorney and entrepreneur responsible for the creation and success of Florida Probate Law Group. Founding the business in 2014, Mrs. David had a vision of providing unparalleled representation in probate and guardianship matters involving tort settlements. Today Florida Probate Law Group is trusted by more plaintiff's firms to handle these matters than any other probate firm in the state of Florida.
Mrs. David's experience as a former probate staff attorney for the Eighth Judicial Circuit of Florida provides her with critical insight into the circuit court's procedures used in adjudicating probate and guardianship matters. Mrs. David leverages that knowledge for the benefit of her clients to secure favorable outcomes efficiently.
Mrs. David furthermore has experience working in a high-volume plaintiff's firm and has witnessed firsthand how challenges related to wrongful death estate creation and child injury settlement compliance can throw a wrench into settlement negotiations. In founding Florida Probate Law Group, Mrs. David created a resource that is now utilized by injury lawyers across the state, handling hundreds of settlement related probate and guardianship cases each year.
Mrs. David is equally qualified in the area of estate planning. Her extensive probate experience allows her to help families preserve and pass on assets free from taxes, creditors, and probate disputes. Mrs. David is a particularly skilled trust litigator and has thereby become an exceptionally thoughtful drafter of trusts including complex trusts for blended families.
Raised in Fairbanks, Florida and an alumnus of the University of Florida, Mrs. David was the first black staff attorney ever hired in the Eighth Judicial Circuit. In law school at Stetson University College of Law, Mrs. David received the Maria G. Martin award for best treatise in legal ethics.
Mrs. David is the proud mother of four daughters. She is a patron of the arts and is often recognized for her charitable contributions to children's theater organizations. In her free time Mrs. David enjoys sewing, swimming, and gardening at her home in Gainesville, Florida.
Education
J.D., Stetson University College of Law, 2010
Honors Program
G.P.A. 3.19
Rank: 21 of 81
Awards:
Recipient, Maria G. Martin Award for Best Treatise in Legal Ethics, 2010
Recipient, William F. Blews Award for Pro Bono Service, 2010
4.0 in Contracts I; Honor Roll (Fall 2008, Spring 2009)
Advanced Certification in Westlaw and LexisNexis
B.S., University of Florida, 2007
Major: Family, Youth and Community Sciences, Non-Profit Organizations
G.P.A: 3.47
Awards:
Dean's List (four semesters), President's Honor Roll, Presidential Scholar, Florida Medallion Scholar (75% tuition)
Jurisdictions Admitted to Practice Florida

Professional & Bar Association Memberships
Florida Bar Association
Legal Experience
Law Offices of David & David, P.A. St. Petersburg, FL
Attorney, Managing Partner 07/2012 – Present
Serve as the proactive trusted legal advisor to small business owners; assist small business owners in growing their business by providing ` legal representation primarily in the areas of general business law, contract law, intellectual property law, employment law, and general civil law; requires ambition, drive, strong work ethic, and dedication to understand the intricacies of each business to most effectively minimize risks and maximize profits.
---
Eighth Judicial Circuit Court of FloridaGainesville, FL
Trial Court Staff Attorney09/2011 – 07/2012
Advised Trial Court Judiciary by conducting complex research, making recommendations, and drafting judicial opinions; required sharp focus in analyzing complex situations and deciphering legally significant facts that decided multiple 6- and 7- figure cases; developed insight into judicial practices and decision making process; restructured system to more efficiently process thousands of cases in the circuit; required the ability to adapt quickly and exceed high expectations.
---
The Chestnut Firm Gainesville, FL
Executive Assistant 07/2011 – 09/2011
Negotiated, drafted, and reviewed contracts; managed multi-million dollar civil litigation caseload; demonstrated superb analytical reasoning under immense pressure; exhibited versatility; communicated effectively with both grieving clients and aggressive opposing counsel; prepared pleadings; developed case theory strategies; hosted focus groups; assisted with law practice management.
---
Gulfcoast Legal Services, Inc.St. Petersburg, FL
Legal Intern 08/2010 – 12/2010
Met organizational goals by performing thorough, detail-oriented legal research and communicating effectively to a diverse group of clients and colleagues; procured a variety of immigration benefits for indigent victims of violent crime, domestic violence, and human trafficking; conducted intake and client interviews; prepared applications and petitions.
---
Department of Veterans Affairs, Regional Counsel's Office Bay Pines, FL
Legal Intern 05/2010 – 07/2010
Defended the U.S. government against claims of medical malpractice and employment discrimination by impartially investigating the merits of lawsuits and conducting extensive research to determine each claim's strengths and weaknesses; attended and assisted lead counsel in preparing for administrative hearings; performed valuation utilizing jury verdicts; prepared motions, expert witness questions, and direct examinations of witnesses; demonstrated attention to detail, the ability to analyze a case, and superb written and research skills.
---
Volunteer Tax Assistance Program Gulfport, FL
Certified Income Tax Preparer 01/2010 – 4/2010
Prepared income tax returns for individuals; cultivated knowledge of the Internal Revenue Code and Internal Revenue Service guidelines.
---
National Clearinghouse for Science, Technology, and the Law Gulfport, FL
Directed Research Assistant 08/2009 – 12/2009
Demonstrated the ability to work efficiently without compromising accuracy; performed directed research on bioterrorism; compiled resources for an international database prepared for legal scholars, judges, medical examiners, scientists, and other professionals.