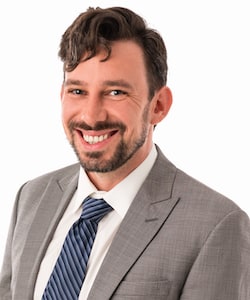 Charles "Cary" David
Charles "Cary" David is a founding partner of Florida Probate Law Group. His Gainesville, Florida based law firm works with hundreds of families each year to administer the estates of deceased loved ones or secure guardianships over family members in need of support.
In addition to serving the general public, Attorney David's practice is is focused on mastering the intersection of probate and personal injury law and works with plaintiff's counsel across the state to facilitate wrongful death and child injury settlements.
In choosing this niche, the founders of Florida Probate Law Group have made it their mission to collaborate with personal injury attorneys to eliminate nagging probate and guardianship issues that were delaying and jeopardizing prospective settlements. Mr. David is proud to have since fostered relationships with many leading plaintiff's firms and to have facilitated millions of dollars in settlements for clients from the panhandle to the Florida Keys.
In addition to uncontested probate matters and his work with plainitff's lawyers, Mr. David occasionally handles high stakes trust and estate litigation involving allegations of fraud and abuse of power. In 2018 and 2019 Mr. David notably represented 18 members of musician Bo Diddley's family in their quest to wrestle control of the rock and roll legend's music rights from the maligned talent management team which had controlled Bo's business affairs during his lifetime and hijacked the estate after his death. Mr. David successfully returned control to the family and recruited record industry veteran Kendall Minter to serve as the new Trustee of Bo's intellectual property.
Bo Diddley's family gets OK to hire new estate trustee
The proud father of four daughters, Mr. David enjoys spending time with his family outdoors and playing sports in his freetime. Mr. David is a proud member of Florida Justice Association and frequent contributor to the Trial Lawyer's Email List. Mr. David regularly authors blog articles and resources to assist injury lawyers in navigating issues related to wrongful death estate administration or child injury guardianship requirements.
Qualifications
Diligent, knowledgeable Florida probate attorney experienced in estate administration, estate planning, guardianship, and wrongful death settlement support. Creative and resourceful litigator who takes pride in achieving client objectives.
Education
J.D., Stetson University College of Law, 2010
Cum Laude
G.P A.: 3.32; Rank: 7/81
B.A., University of Florida, 2007
Cum Laude, Political Science
G.P.A.: 3.79
Jurisdictions Admitted to Practice Florida

Professional & Bar Association Memberships
Florida Bar
Legal Experience
Florida Probate Law Group Gainesville, FL
Attorney 02/12-present
Consult with clients in the wake of tragedy, develop rapport, and identify legal issues
Administer estates for the maximum benefit of clients, avoiding creditors through superior understanding of Florida law
Prosecute and defend civil actions on behalf of estates
Research and apply the full weight of the law for clients' benefit at trials, hearings, and depositions
Work closely with plaintiff's firms to expedite wrongful death and child injury settlements
Create estate plans to protect client assets and ensure long-term care expenses do not evaporate a lifetime of hard work
---
Three Rivers Legal Services, Inc. Gainesville, FL
AmeriCorps Attorney 09/11-02/12
Advocated for indigent parties in eviction and unemployment proceedings
Studied case law to gain an upper hand for tenant defendants against corporate plaintiffs
Hosted legal workshops to provide expungement services to Alachua County residents
Recruited, trained, and supervised a team of law student volunteers from the University of Florida to assist in legal workshops
Developed a medical/legal resource partnership between Three Rivers Legal Services, Inc. and HealthStreet at the University of Florida
---
United States District Court for the Middle District of Florida Tampa, FL
Tampa Division 08/10- 12/10
Judicial Intern for the Honorable Elizabeth A. Kovachevich
Evaluated motions submitted by parties in federal litigation and advised the judiciary of the relative merit of arguments
Conducted legal research in the areas of constitutional law, contract law, multiparty litigation, and criminal law
Drafted proposed orders ruling on complex issues of constitutional law
---
United States Attorney's Office for the Middle District of Florida Tampa, FL
Criminal Division 01/10-04/10
Legal Intern
Assisted in federal drug trafficking, tax evasion, and Medicaid fraud prosecutions by analyzing theories of culpability in novel criminal cases
Developed legal and factual bases to charge potential defendants suspected of defrauding the government through unconventional means
Identified admissible evidence to convict potential defendants under United States law
---
Russo & Russo P.A. St. Petersburg, FL
Law Clerk 05/09-01/10
Communicated with state prosecutors to request reduction and dismissal of clients' criminal charges based on improper police procedure
Drafted correspondence to highlight weaknesses in potential prosecutions
Conducted factual investigations in personal injury cases by visiting accident scenes and identifying witnesses
Prepared motions, orders, and affidavits
Interviewed witnesses, victims, and clients
---
Los Angeles County District Attorney's Office Norwalk, CA
Hardcore Gang Unit 05/08-07/08
Law Clerk
Participated in capital crime prosecutions by collaborating with prosecutors to analyze legal problems and formulate trial strategies
Assisted with jury selection in felony cases
Observed victim and witness interviews
Created visual evidence presentations for use at trial
Publications
Charles David, "Minor Personal Injury in Florida: When is Court Approval of Settlement Required?"
May 2015 – Courtapproval.com
Charles David, "Wait! Don't Pay That Medicaid Lien From Your Client's Wrongful Death Settlement!"
November 2016 – Courtapproval.com
Charles David, "What in the World is a Medicaid Set Aside?"
July 2016 – Courtapproval.com
Presentations
Florida Justice Association Workhorse Seminar – Virtual CLE presentation
March 2020
Abstract: Attending plaintiff's attorneys are instructed regarding the role of incapacity guardianship proceedings for clients in cognitive decline, or with traumatic brain injury. Attorney David explains the process of petitioning for guardianship, arranging for examining committee, and administering a tort case on behalf of a ward.
Florida Guardianship Conference -Hyatt Regency Riverfront Hotel – Jacksonville, FL
July 2017
Abstract: Professional guardians learn how estate administration and estate planning may be required during the course of guardianship administration. Attorney David explains the role of professional guardians in creating estate plans and initiating probate proceedings for their wards.
Estate Planning Workshop – The Atrium, Gainesville, FL
October 2016
Abstract: Attendees are counseled regarding estate planning instruments and their usefulness, the effect of failing to plan for the future, and the benefits and detriments of entrusting loved ones with powers of attorney and health care surrogacy. All attendees receive complimentary will.
DUI prevention Lecture – Multiple venues, Gainesville, FL
March and April 2014
Abstract: Attendees (college students) are warned of the consequences of a DUI conviction. Accompanying the attorney presenter is an individual charged with DUI to relay the hardships imposed by their poor choices.
Skills
EnCase Computer Forensics I Certification
Westlaw Advanced Legal Research Certification
Lexis Advanced Legal Research Certification
Achievements
Witkin Award for Academic Excellence in the area of Criminal Procedure
Eagle Scout